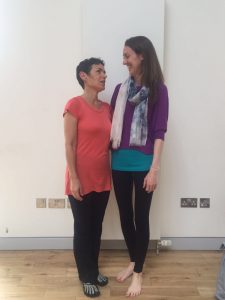 I am delighted to share that my teacher, Donna Farhi, will be leading a workshop in my home town, Brisbane, this November.
At a workshop in 2006, Donna and her skilful inquiry-based pedagogy guided me back to my body as my inner teacher and, after years of debilitating illness and pain, her practices allowed me to find ease, comfort and strength that I hadn't thought possible. It was this experience that inspired me to explore yoga teacher training and then to complete Donna's Advanced Yoga Teacher Training in New Zealand. I have since participated in, assisted and hosted several of Donna's workshops all around the globe and continue to learn from this work. Donna creates a safe learning environment where her students can investigate, adapt and evolve their practice to honor their individual needs. This, alongside her in-depth knowledge and lived wisdom, make her an exceptional teacher of our times. I hope you will welcome her to Brisbane and dive deep into her teachings.
Learn More & Book Your Place >>
Yoga for Lower Back Health
Keys to Sacroiliac Stability and Ease of Movement
a weekend intensive with Donna Farhi
Brisbane Australia
November 1-3, 2019
More and more Yoga practitioners (and teachers) are showing up to class with debilitating sacroiliac discomfort becoming members of a rapidly growing international "SIJ" Club.  In many instances sacroiliac issues in Yoga practitioners are the consequence of repetitive dysfunctional movements, skewed body mechanics and forceful overstretching.  Little-by-little, these actions can erode the inherent stability of the pelvis, resulting in pain and movement impairment.
This course is an invaluable investment in helping to you to prevent and to resolve sacroiliac instability for yourself and your students.
Donna's teaching was sublime. She presented at a higher level than I have ever witnessed. ~ Michelle Harris
The 13-hour course includes…

Two in-depth anatomical PowerPoints covering the structure and mechanisms that underlie sacroiliac stability.  Donna will demonstrate the relationship between the lumbar spine and hips, and the specific anatomical features that contribute to its stability bias as well as the unsound biomechanics that can leverage into and pry apart these joints setting the stage for SIJ misalignment.


Identifying key culprits and common Yoga practices that erode SIJ stability.

Three practice sessions that respectively address reducing pain and discomfort, rebuilding pelvic integrity, and finally how to maintain stability while restoring greater mobility.  (Practice pdf summary sheets will be provided).

Approx. 150 pages of worksheets and practice notes provided as downloadable PDF documents
Workshop Schedule
Friday, ​November 0​1, 6:30-8:30 pm
Saturday, ​November 0​2, 10:00-1:00 pm and 2:30-5:00 pm
Sunday, ​November ​​03, 10:00-1:00 pm and 2:30-5:00 pm
Venue
Soul Space, Brisbane
23 Parker Street, Newmarket 4051
(easily accessible by car, bus and train)
Investment
$390 AUD
How to book
Visit Donna Farhi's Website for more information and bookings.
About Donna Farhi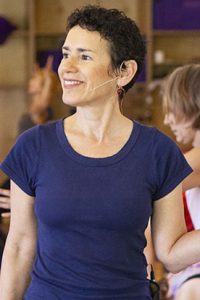 Donna Farhi is a Yoga Teacher who has been practicing for over 40 years and teaching since 1982. As a post-lineage pioneer, Donna has been at the forefront of generating a new model for teaching and practice that fosters self-inquiry through the cultivation of each person's inner reference system. Going beyond the archaic pedagogic model that is characterised by "Simon Says" mimicry and rigid formulaic methodology, her approach is to create a safe learning environment where her students can investigate, adapt and evolve their practice to honor their individual needs. Incorporating the rigorous backing of anatomical principles for safe and sustainable practice, Donna offers progressive levels of engagement that allow people of all levels of experience and from all traditions to build their own authentic Yoga practice. Considered the "teacher of teachers" students return to Donna's intensives year after year to be a part of the inspiring evolution of Donna's own practice and teaching.
Donna is the author of four contemporary classics: The Breathing Book, Yoga Mind, Body & Spirit: A Return to Wholeness, Bringing Yoga to Life: The Everyday Practice of Enlightened Living, and Teaching Yoga: Exploring the Teacher-Student Relationship, which is a curricular text for teaching trainings worldwide. Her fifth and most recent book, co-authored with Leila Stuart, Pathways to a Centered Body: Gentle Yoga Therapy for Core Stability, Healing Back Pain and Moving with Ease is becoming the go-to text for Yoga teachers, therapists and somatic practitioners.
In April 2017, Donna fractured her pelvis in two places as a result of a serious riding accident. Her lengthy rehabilitation has given her extraordinary insights into how to restore pelvic stability. Her latest online tutorial courses on Anatomy of a Centered Body and Yoga for Lower Back Pain: Keys to Sacroiliac Stability and Ease of Movement is making her expertise more accessible to teachers and students worldwide.
Book Now via DonnaFarhi.co.nz >>
SaveSave
SaveSave
SaveSave
SaveSave
SaveSave
SaveSave
SaveSave
SaveSave