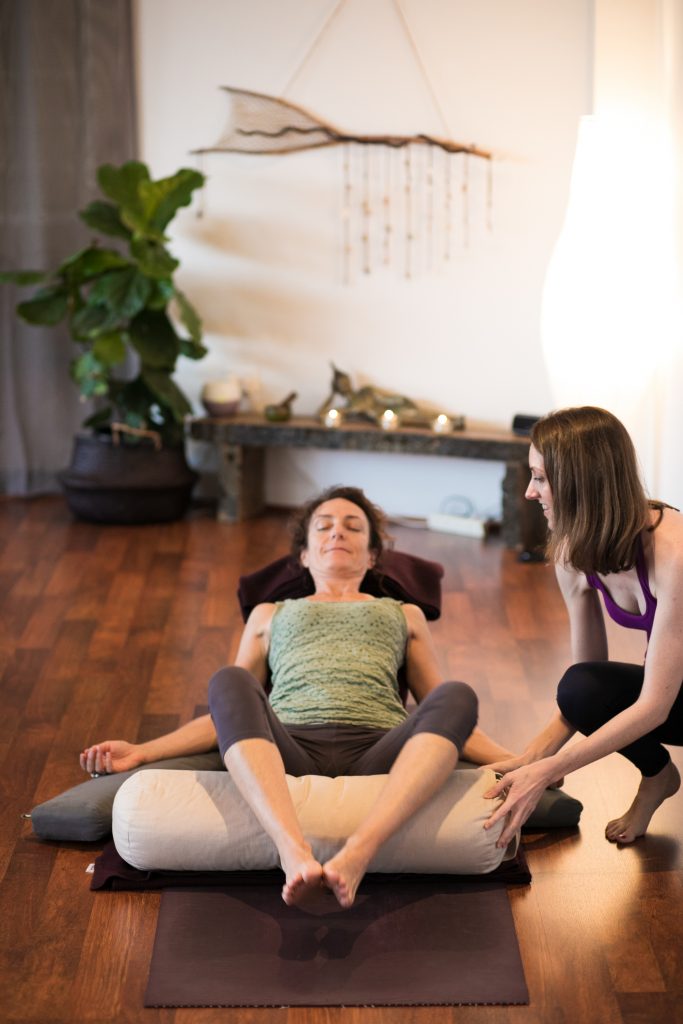 Nourish all dimensions of your being through the slow, mindful practice of restorative yoga and meditation.
This 2-hour journey invites you to slow down, connect with your inner wisdom, and come home to yourself.
Completely supported in a nest of blankets, bolsters and blocks, you'll find comfort to soften into each pose, allowing tension to release and energy to flow more freely. By resetting the nervous system, you'll uncover a sense of spaciousness and glimpse the importance of integrating active rest into our otherwise busy lives. 
A positive antidote to high levels of stress and fatigue, the Restorative Yoga Afternoon Retreat will leave you feeling well-rested and rejuvenated for the week ahead.
Upcoming Restorative Yoga Afternoon Sessions:
*Sunday 20th September, 2020
12:30pm-2:30pm @ Soho Yoga, Grange
$45 (includes online booking fee)
Bookings are essential as enrolments are kept low to ensure individual attention and sufficient equipment for each participant. Early bookings are recommended to avoid disappointment.
Book Now >>
"Kirsty's restorative sessions are an absolute must. I walk into the class with stress from the top of my head to the tips of my toes, but by the second pose, with Kirsty's beautiful words, relaxation seeps into every nook and cranny. I re-enter the hectic world but retain my relaxed state of being for days." – Andrea Canning, England
The Restorative Yoga Afternoon Retreat is for women and men of all ages and stages of life. No previous yoga experience or flexibility is required and those who are experiencing or recovering from injury, illness or trauma are encouraged to attend.
We choose beautiful studios that are fully-equipped with the essential props and mats however we ask that you put your health and safety first by bringing 2 bath or beach towels – one to use as a head support and the other to place over the shared bolster. For your supreme comfort, please wear loose comfortable clothing or yoga wear. You might also wish to bring a shawl, or light blanket to drape over you, a pair of socks and a water bottle.
This was a wonderful relaxing and insightful experience and I floated out of the session feeling more calm and focused than I have in a very long time. The content, teaching and atmosphere was wonderful. The whole experience came about because of Kirsty, and her passion for Restorative and the ease with which she made all students feel special, nurtured and cared for. Thank you Kirsty." – Linda Brown, Scotland
SaveSave
SaveSave
SaveSave
SaveSave
SaveSave
SaveSave
SaveSave
SaveSave
SaveSave