A pedagogic model is about forming a strategy for teaching that is based on principles that support true education. These principles serve to act as an invisible web that gives cohesion to the learning experience. Our pedagogic model is 'in between the lines' of everything we say and do within the context of the Yoga studio. – Donna Farhi
One of the things I appreciate most about the teaching methodology of my teacher, Donna Farhi, is that she teaches from the inside out. She encourages us as students to befriend our self and listen to the wisdom of our own perceptions first and foremost. As a trained classroom teacher and Yoga teacher, I am always interested in different teaching methodologies and how, as a teacher of two very different subject areas, I can best support learning in my students. 
The word educate is derived from the Latin word educare, which means to bring or draw out. This may seem contradictory to many of the teaching methods we experienced in school, when education was seen as a transfer of knowledge from teacher to student rather than a drawing out of the inherent intelligence within an individual. 
Whether you are a newly trained teacher, or a teacher with decades of experience under your belt, you are undoubtedly motivated to teach Yoga in the best way you can.  
– How do you create a context for your students to gain confidence in listening to their own perceptions?
– How do you pave the way to move students from dependence to independence? 
In her article, Teaching Students to Trust Themselves, Donna Farhi outlines some of the preliminary steps that lay the foundation for teacher and student to work together towards this independence.
What are your experiences, as a teacher or student, of these different approaches to teaching? If you feel drawn to do so, leave your comments below.
 *If you found this article of benefit, you are welcome to make multiple copies of this download for your students and also to share with your colleagues.
Donna Farhi leads intensives and teacher training programs internationally. In 2016, she will be holding workshops in NZ, Australia, China, UK & Europe. Her full teaching schedule can be found here. We are delighted to have Donna returning to the Gold Coast in October for her 5-day Spinal Integration Intensive.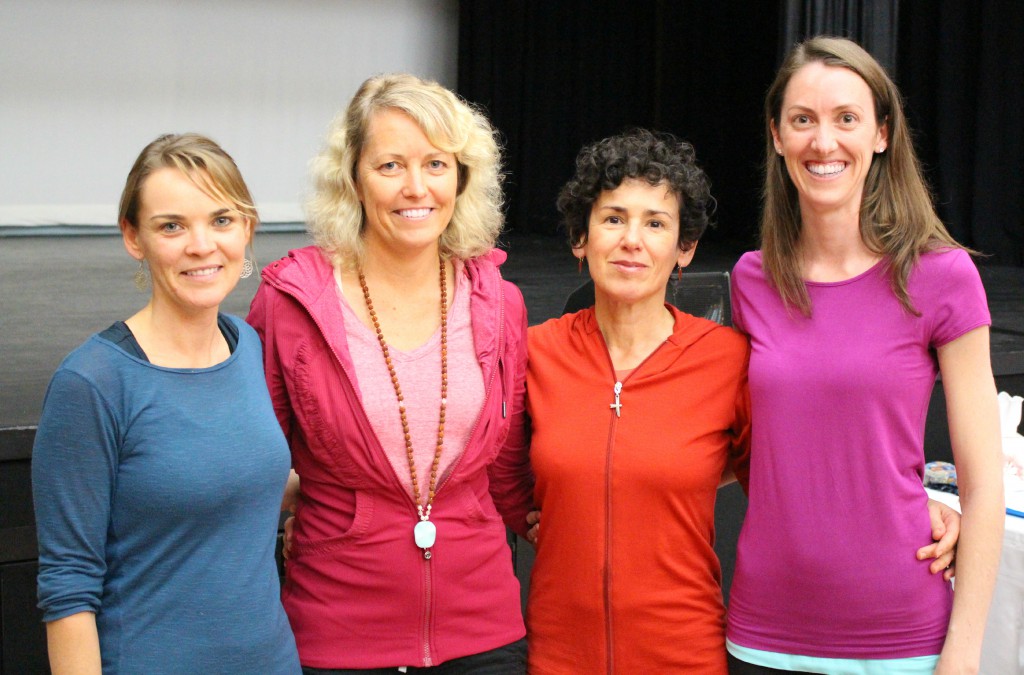 Donna Farhi and assistants – Origins of Alignment workshop on the Gold Coast, May 2015
Jackie, Sue, Donna & Kirsty